SiteGround is an appreciated and respected hosting company which I've been using for 4 years now, for different WordPress projects, including this one.
It's also officially recommended by WordPress.
In this SiteGround WordPress hosting review, I'll show you an in-depth look at its main strengths and features, and why it's a great choice for your WordPress project!
SiteGround WordPress Hosting Is Fast
SiteGround uses an up to date hosting infrastructure, and it also provides you with tools to further improve the speed of your WordPress website!
1. Latest technology
SiteGround always implements the latest technology to provide a good hosting infrastructure: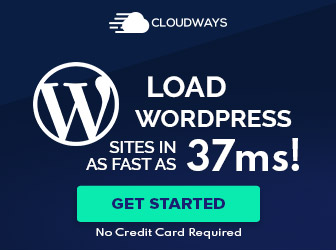 SSD: All their WordPress hosting plans include SSD technology (Solid State Drive), which is a lot faster than the standard HDD (Hard Disk Drive);
HTTP/2: SiteGround was among the first web hosting companies that implemented HTTP/2, which is the newest network protocol used to improve the loading time of websites;
PHP 7: There are many web hosts out there that still don't support PHP 7. Well, SiteGround does. Running your WordPress website on PHP 7 will further improve its loading time.
2. Good TTFB
One of the important things to look out for when choosing a web host for your WordPress website or blog is TTFB (time to first byte).
Simply put, TTFB is a measurement of how long it takes for a browser to start receiving its first byte of data from the server.
The longer it will take to receive the data from the server, the longer it will take to show the web page.
Many web hosts struggle with this because many web hosts are just bad.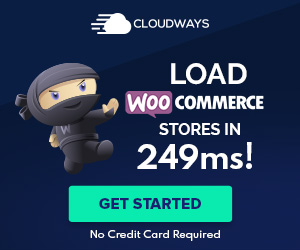 This is not the case for SiteGround hosting, though. Since they make use of the latest technology, they have good TTFB.
While Google recommends having a server response time under 200ms, you'll most likely won't get it.
Even their own blog (it's not on WordPress) doesn't go under 200ms. It almost reaches 300ms.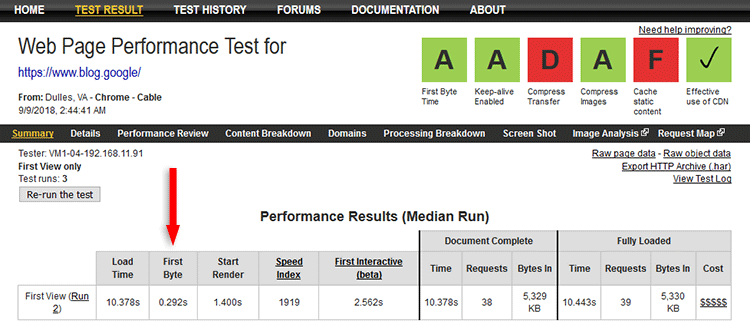 And you can imagine that they have a top-notch infrastructure, top-notch web developers, and all the good stuff.
Please note that the Load Time/Fully Loaded Time refers to the time it takes for every single resource to load. It doesn't refer to the time it takes until the user starts seeing content, which is the important part – Start Render time.
What you'll usually get on a good hosting will be something between 300ms-500ms, which is fairly ok. Usually, it shouldn't be over 500ms.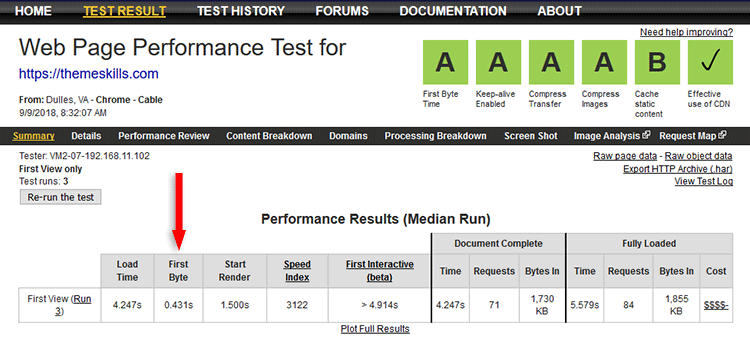 The TTFB can differ from test to test. Now you can get 350ms, then 410ms, and so on. It fluctuates.
Keep in mind that the TTFB is also influenced by:
How "heavy" your WordPress website is;
How well optimized it is;
How effective your caching system is;
What other tools you might be using.
For example, if you use Cloudflare, as I do, your TTFB can increase.
Probably that's why they say it's not important, while a web performance engineer from Google says that it is important. :)
Who's right? I don't know… Hope Cloudflare is right, though, so we can get one thing off our minds when it comes to website speed.
They say that if you cache your static HTML on Cloudflare, you could get under 50ms.
But that process looks a bit out of my league, and I rather have a higher TTFB than worrying that something on my site could be messed up, and I don't even know about it.
Here's another speed test for my newly launched blog, WebStoked.com, which runs on a simple StartUp plan from SiteGround.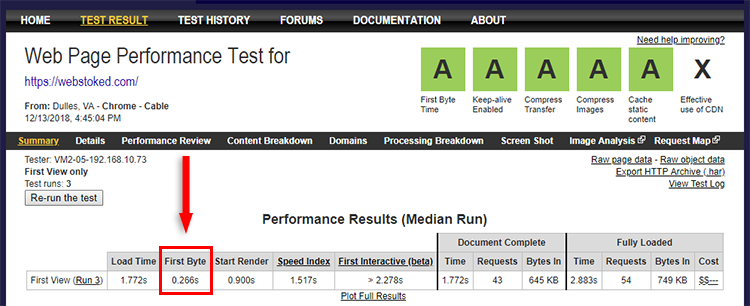 As you can see, the TTFB is 0.266s, which is great!
I haven't enabled CloudFlare on it yet, but I will, even if the TTFB might increase a bit.
But the blog is also way lighter than this website because I use GeneratePress (GeneratePress review), not Avada, which is a lot heavier. I also have more tools on this website.
3. Built-in caching system
SiteGround hosting provides its own caching system for WordPress, called SuperCacher.
SuperCacher works through their WordPress caching plugin, called SG Optimizer.
SG Optimizer can do a good job on its own, but it's also compatible with WP Rocket (review), a caching plugin that I use and strongly recommend for 3 years now.
They complete each other because SG Optimizer has a Memcached feature that WP Rocket currently doesn't have.
Here's how to use SG Optimizer with WP Rocket, the right way!
4. Data centers on 3 continents
The closer the server is to the end clients (your visitors), the faster your WordPress website will load for them.
Therefore, SiteGround hosting has implemented 4 data centers on 3 continents:
North America (U.S. – Chicago);
Europe (Uk – London; The Netherlands – Amsterdam);
Asia (Singapore).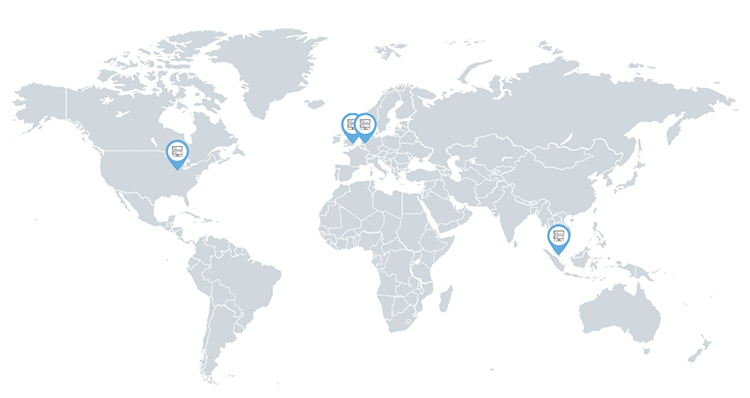 5. Free Cloudflare CDN
A CDN (Content Delivery Network) can greatly improve your WordPress website's speed.
If your website is international, then a CDN should be a must!
SiteGround has partnered with Cloudflare to offer you free CDN, which you can simply activate from your control panel (cPanel).
But this only works if your domain will use www (www.example.com).
I don't recommend using a domain name with www just for that.
Cloudflare offers a free plan anyway, and you can set everything up with them directly.
If you were planning to use www anyway, then it will be simpler to use the Cloudflare feature from your cPanel.
Now, let's get to the next section on this SiteGround WordPress hosting review: security.
SiteGround WordPress Hosting Is Secure
SiteGround provides good security at a server level, but also provides you with security tools.
1. Server security
SiteGround hosting has several security layers to protect your WordPress website:
All their servers are set to use PHP 7 with the latest security fixes;
They have sophisticated IDS/IPS systems which block malicious attacks;
They are running Apache in a chrooted environment with suExec;
ModSecurity is installed on all WordPress shared servers.
2. Free "Let's Encrypt" SSL certificate
SiteGround hosting offers free "Let's Encrypt" SSL certificate to run your WordPress website on HTTPS, not HTTP.
Running on HTTPS also offers an SEO boost.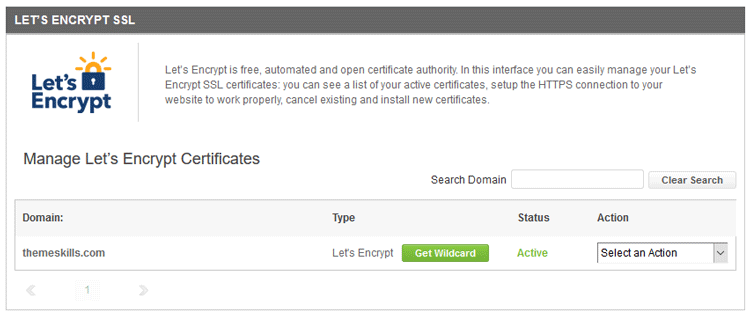 You can activate it with just a few clicks in your cPanel.
Make sure you activate it before installing WordPress, then choose to install WordPress via https://, not http://.
Also, make sure you choose Enforce HTTPS from HTTPS Settings – found in the Action drop-down menu – to properly redirect your WordPress site from HTTP to HTTPS.
3. Malware scanner
SiteGround has its own malware scanning tool, called SG Site Scanner, which is powered by Sucuri, one of the most respected security companies.
This tool performs daily malware and blacklist scans for your WordPress website, and then it provides a report.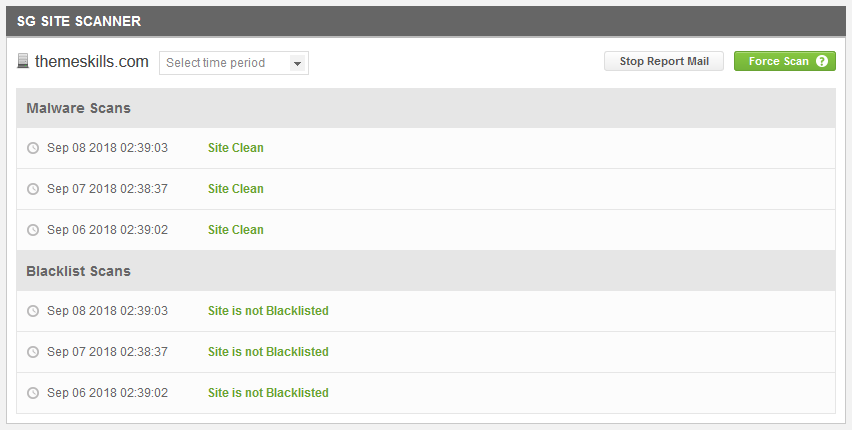 Note that this tool doesn't prevent your WordPress website from getting infected, it only tells you if your site is infected.
It's your job not to get hacked/infected with malware in the first place. Having a secure hosting server is not enough!
You have to implement security features at a site level as well because that's where hackers normally attack.
Always install the 'Let's Encrypt' SSL certificate I mentioned above;
Be careful what themes and plugins you install. Don't download them from shady sources, don't use outdated ones, and try your best to find out if they are well optimized or not;
Install a good WordPress security plugin. I recommend iThemes Security or iThemes Security Pro for more security features. Here's a detailed tutorial I've written on how to secure your WordPress site with iThemes Security.
Be careful whom you give access to your WordPress website, hosting account, and FTP/cPanel.
Customer Support
SiteGround has a big knowledge base, useful WordPress tutorials, and very fast support!
1. Knowledge base and WordPress tutorials
Their knowledge base provides guidance for hosting, cPanel, applications, billing, and others.
They also have useful WordPress tutorials, but so do I on my blog, so check here too. :D
2. Live chat and ticketing
This is something that I really love about SiteGround – the live chat and ticketing support!
The longest time I've waited to talk to someone on live chat was around 1 minute, I think.
Normally, in 20 seconds tops, I'm talking to someone.
Their ticketing system is also fast.
They'll usually answer your first ticket in about 10-15 minutes (or less). The replies might take a bit more, though.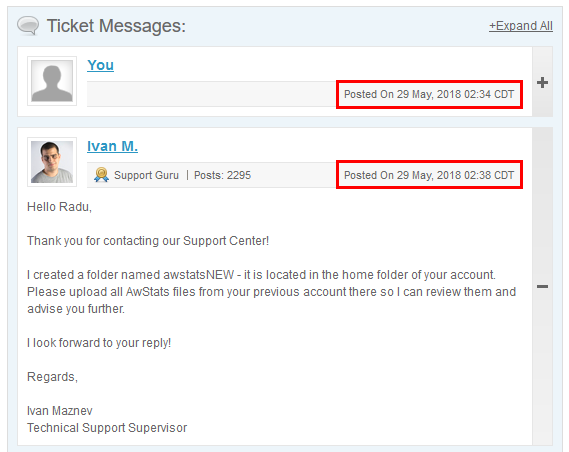 Look at my last ticket where I was asking for some AWstats assistance because I messed up the files. :P
I got a reply in 4 minutes! And it wasn't an automated message, as you can see. He was already helping me out.
You can also call them. I never did, though. I assume they answer just as fast as they do on live chat.
Pricing
The shared SiteGround WordPress hosting plans are affordable.
The prices usually start at $3.95/mo for the StartUp plan, but I recommend purchasing at least the GrowBig plan, which is $5.95/mo.
Note that those prices are discounted only for the first payment/year!
The GrowBig plan has some useful perks, such as advanced on-demand backups, 1-click staging, and the SuperCacher that I mentioned above.
I've put together a tutorial on how to buy a SiteGround WordPress hosting plan, so you don't miss important features or choose the wrong options.
And here comes the last part of this SiteGround WordPress hosting review: the cons!
Pros and Cons
Pros:
Fast and optimized infrastructure;
The best practices and latest technology are always implemented;
Good security;
Knowledgeable and currently the fastest support I've seen for both live chat and ticketing.
Cons:
Depending on the plan, they allow a certain amount of account executions (i.e. the number of scripts executed for a certain period of time) per hour or day. If your WordPress site isn't properly optimized, you can quickly exceed them at high traffic. I managed to pull off around 40K unique visits/mo with the GrowBig plan, which is more than the 25K they approximate. So, it's all about site optimization.
SiteGround WordPress Hosting Review Conclusion
So, should you buy SiteGround hosting for your WordPress site? Absolutely!
Your WordPress website will be hosted on a good, updated, and optimized environment, and you won't have to worry about speed, uptime, and errors popping up every day.
So, head on to SiteGround and enjoy a good WordPress hosting!
That's a wrap
Hope you found this SiteGround WordPress hosting review useful!
Don't forget to share it with your friends!
You can quickly subscribe to my newsletter by using this link or the subscription form.
If you have any questions or thoughts, drop a comment or send a message via contact or Facebook page.
You can also hit the follow button on Twitter and subscribe to the YouTube channel.
If you want to start your own WordPress blog, or need a website for your business, ThemeSkills' WordPress setup service is at your disposal! On-going WordPress support and maintenance are on the menu as well!