This post was last updated on 12/6/2018 for Canva 2.0
Canva is a free online tool used for graphic design.
It uses an easy drag-and-drop system and provides millions of images (stock photography, vectors, and illustrations), as well as fonts.
I've started using Canva for quite some time now, mostly for our posts' featured images, and I'm very happy with it!
And since I'm happy with it, it's free and very easy to use, I thought that I should spread the word for those of you that don't know about Canva yet.
The type of images you can create with Canva
You can create a lot of different designs with Canva, used for things like:
Social media posts – Facebook, Twitter, Pinterest, and more;
Documents – US letter document, magazine cover, certificate, résumé, and more;
Blogging & eBooks – Book cover, photo collage, infographic, and more;
Marketing – poster, flyer, logo, business card, and more;
Social media and email headers – Facebook event cover, YouTube thumbnail and channel art, Twitter header, and more;
Events – Postcard, invitation, announcement, program, and more;
Ads – Facebook ad, skyscraper ad, large rectangle ad, and leaderboard ad.
All of these come with proper pre-made sizes, which is very useful and time-saving.
For example, if you want to create a header image for Twitter, you don't have to search on Google to find out the recommended size for the header image, because it will already be properly set by default.
Of course, some images, such as those that will be created for your WordPress blog, will require a size that will match your blog's layout. Every website/blog has its own layouts.
Luckily, for this type of situations, Canva has a feature that lets you create images with custom dimensions.
How to use Canva to create images for your WordPress site
As an example, let's say you want to create a header image for Twitter.
To do this, you'll have to:
Click on the Create a design button;
Scroll down in the box that will appear or type Twitter Header;
Click on Twitter Header, which will already be 1500x500px in size.
After selecting the 'Twitter Header' design, you'll find yourself in the editing area.
On the right side, you'll have your design, preview, and editing tools.
On the left sidebar, you'll find editable pre-made templates, graphic elements, backgrounds, and more.
Or you can create something from scratch by searching for different images in the media library, adding text, and so on.
Example 1 – Using and editing an existing Canva template
Click on a template from the sidebar and begin editing it.
You can edit the text, change the font and color, change the color of different elements, move things around, and more.
This was just a quick example, but you have other tools available that you can use to customize your design.
Example 2 – Create a design from scratch
Now let's see how can you create something from scratch, without a template, using the media library and other features.
Remember that you can also upload your own images!
You probably have noticed that Canva also has a feature that lets you properly align the elements on your design, which is another thing that I really like.
Save and download the file
Canva has an auto-save feature, but just to make sure, save the file before downloading it by going to File -> Save.
After saving the file, proceed with downloading it by clicking on the Download button and selecting the proper image file type – PNG or JPG (important!).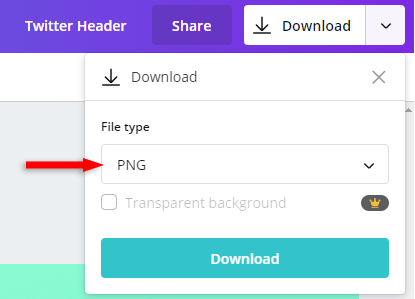 So, that's how easy it is to create awesome images for your WordPress website with Canva!
Notes
Not all images are free. The ones that are free have a 'FREE' label on them.
But, no worries, because another awesome thing about Canva is that you can buy images for just 1$, which will remove the watermark for one design for 24h.
So, if you think that you won't need an image again, you can just buy it for 1$, download it and use it.
On the other hand, if you want to keep reusing an image, you can buy it for 10$, which will permanently remove the watermark, and you can use it in all of your designs.
Or, if you purchase 'Canva for Work', you'll have access to over 400.000 free photos, illustrations, and templates!
That's a wrap
If you didn't know about Canva until now, I hope you'll try it out, enjoy it and use it to create free images for your WordPress website.
If you have any questions or thoughts, drop a comment, contact us or message us on Facebook.
You can also follow us on Twitter and subscribe to our YouTube channel.
If you want to start your own WordPress blog, or need a website for your business, our WordPress services are at your disposal! We also provide WordPress support and maintenance!
You can also purchase a ready-made WordPress website with hosting and support included!