Images are very important for both on-page SEO and user experience, and you should always add images to your pages and posts.
The question is: Where to find copyright free images for your website if you don't want to spend big bucks? Because they don't come cheap from what I've seen.
Before we get to that part, let me tell you why images are so important for your site.
Why are images important for SEO and user experience
For SEO:
You can get traffic from image search results by adding an alt text to every image (with your keyword, if relevant to the image);
You'll also have a more media-rich content, and search engines prefer that;
The user experience will improve, therefore the users are more likely to stay and read your content, without leaving in like 2 seconds. That tells search engines you have quality content.
For users:
A nice and quality featured image can catch the user's eye when the post is shared on social media, for example;
They add interest to a page or post;
The content becomes more engaging;
The structure will improve. People don't just want to see large blocks of text.
Where to find copyright free images
I'll point out 11 websites which I believe to be the best. Most of the images found on these websites are under Creative Commons, but just to be sure, please check the license type before downloading and using the image.
1. Flickr
It has a huge amount of images, so it's a great place to start digging for the right one. Make sure you select Creative Commons only license in the top menu bar:
2. Google Advanced Image Search
The chances to find something nice here, are slim, but it's worth a shot. You just need to insert your keywords and select some features, then scroll down to this:
Select whatever usage rights suit your needs.

3. morgueFile
There are some good images, but you have to click on each one in order to find out what you are allowed to do with it.

4. Foter
Has some great images, it's easy to use, and has a nice interface as well. Don't forget to set your License type to Commercial Use:
5. Pixabay
This is my favorite, maybe because I always found what I needed here. I think it's one of the best places where you can find copyright free images. All pictures are available to download under Creative Commons, so you don't have to select any license type.

6. picjumbo
As they say, this site offers "totally free photos for your commercial & personal works". There are tons of great images to choose from, and a lot of them are high resolution too. The site also has categories, which makes it easier to search for what you need.

7. IM FREE
IM FREE offers a curated collection of free images, all for commercial use. The site has some nice pictures, but not so many, and an attribution to the creator is required.

8. StockPhotosForFree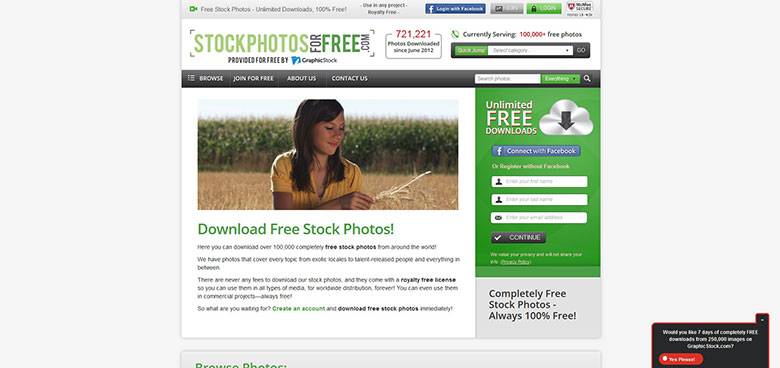 The site has a lot of photos and it also has category listings, which are useful. The one thing that I don't like about the site is that you have to register in order to download photos. Personally, I hate unnecessary registrations, even if it doesn't take long to do that.

9. Wikimedia Commons
With almost 24 million media files, most of them completely free, Wikimedia Commons is a great place to search for quality images. Like I said, most of them are completely free, not all of them, so make sure you check the license information.

10. Creative Commons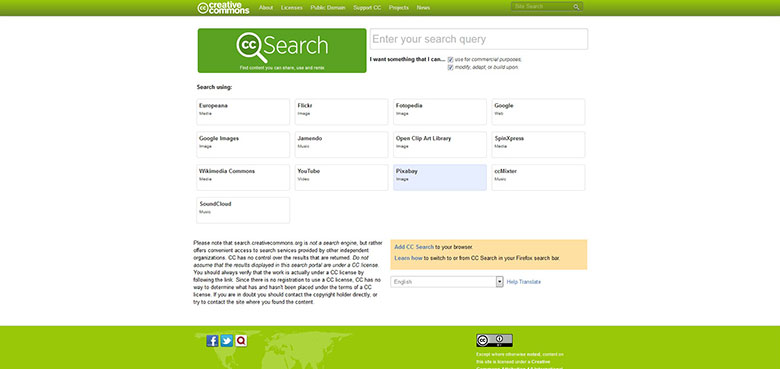 The Creative Commons website is basically a tool that allows you to search for images across multiple sites, like Google Images, Flickr, Pixabay, Wikimedia Commons. Don't forget to choose your license under the search box.

11. Pik Wizard
Pik Wizard currently offers over 100,000 completely free stock images. Over 20,000 of them are exclusively for them.
New images are added daily, and they're aiming to have more than 1 million images!
Conclusion
As you can see, there are a lot of websites that provide copyright free images, which, in many cases, are of great quality. Whatever images you're searching for, I'm sure you can find them on one of the above websites.
I know there are many other sites, but I've picked out 11 that I consider being the best for you. There could be ones that are better, but we don't know about them, so please share them with us.
Don't forget to share the post with your friends, so they know where to find copyright free images as well!