If you care about SEO – and you should, at least for the on-page part – then adding your WordPress website to Google Search Console (formerly known as Google Webmaster Tools) is a must!
It provides a lot of valuable information and statistics about your website.
So, in this tutorial, I'll show you how to add your WordPress website to a new or existing Search Console account, as well as how to speed up the crawling and indexing process.
Don't worry, it's easy!
How to add your WordPress site to a new Google Search Console account
You'll need a Google account for this, and I assume you already have one.
If you're among the few that don't have one, then create one before continuing with the below steps.
Step 1
Go to Google Search Console and click the Start now button.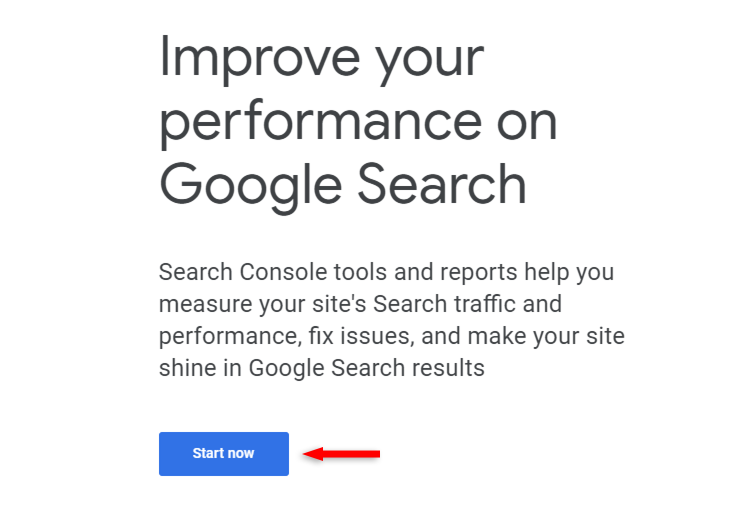 Step 2
Ad your WordPress website's URL.
I'll use my newly launched blog (WebStoked.com) as an example.
Step 3
Verify the ownership of the website.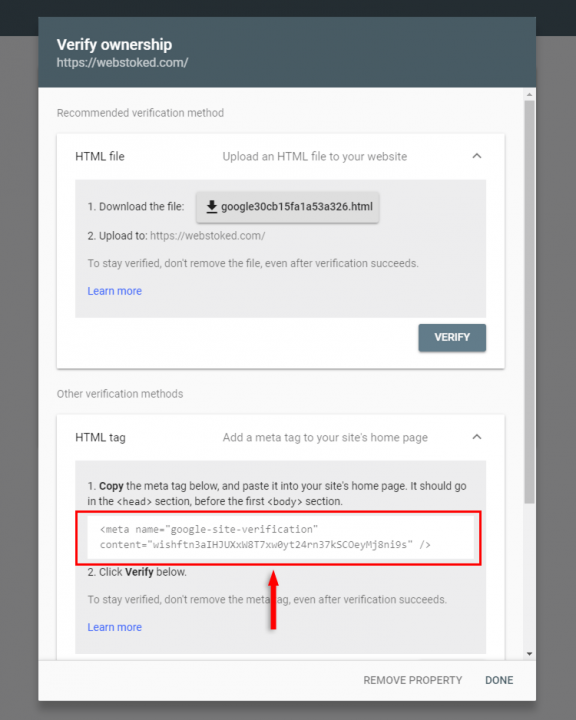 Personally, I use and prefer the first method, the one where you have to download and upload an HTML file.
But for that, you'll have to access your FTP, and it can be a bit complicated if you're a beginner.
So, an easier way is to use the method where you have to copy a meta tag and add it to your WordPress website.
There are 3 easy ways to do that, and you most likely already use one of them.
So, use one of the below methods to add the meta tag verification code, then go back to the Search Console website and click the Verify button.
Method 1
Check your theme's settings and see if it allows you to add code inside the <head></head> section of your website.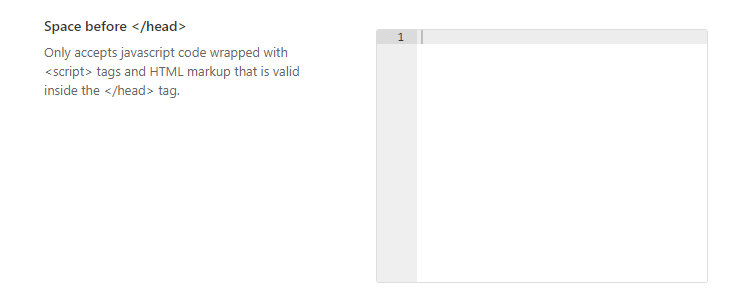 This is how it looks like in the Avada theme (affiliate link).
If you're using it, then you can find that in Avada > Theme Options > Advanced > Code Fields.
Method 2
If you're using the Yoast SEO plugin – and you should because it's an essential WordPress plugin – then go to SEO (from your Dashboard) > Search Console.
There, you can paste the whole meta tag and click Authenticate.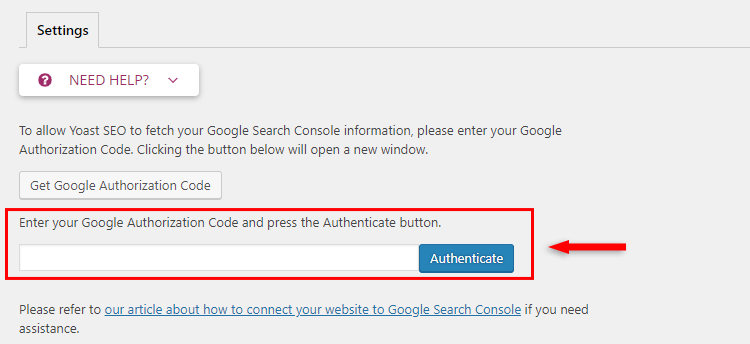 Method 3
If you don't already have a plugin for situations like this, then you can use AddFunc Head & Footer Code.
Here are 3 different ways to install a WordPress plugin.
Go to Settings > Head & Footer Code and paste the meta tag in Site-wide Head Code.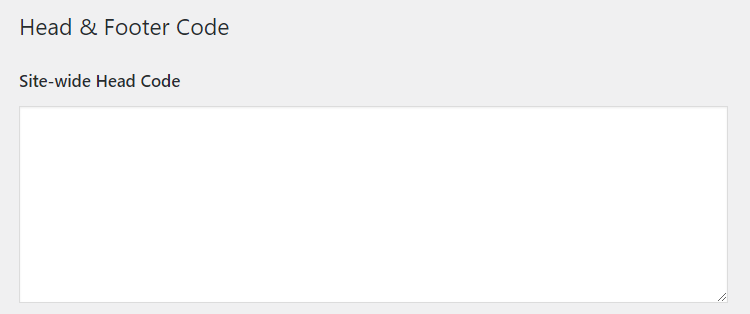 Step 4
If the verification succeeded, an Ownership verified pop-up will appear.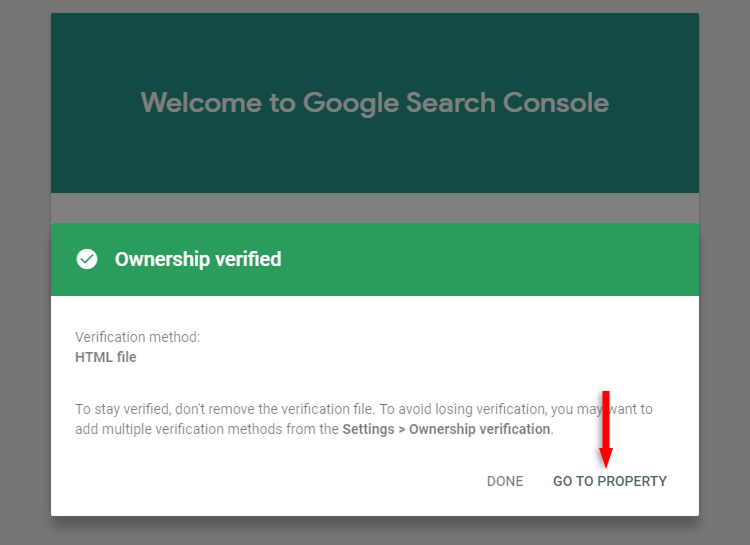 Click the Go to property link to access the Search Console tool.
Step 5
Once you're in Google Search Console, go to Sitemaps.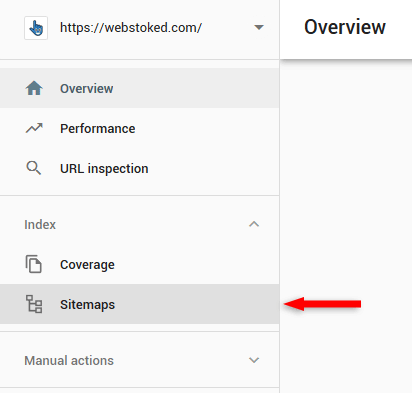 Step 6
Submit your sitemap.
If you're using the Yoast SEO plugin, your sitemap's URL will be https://yourdomain.com/sitemap_index.xml, but you'll only need the slug for the sitemap, not the whole URL. Search Console will automatically add your domain.
If you're using other plugins that generate a sitemap, then find out what's the URL and add that.
Click the Submit button.
It might take a while until Google processes it.
That's it for this part.
How to Add your WordPress site to an existing Google Search Console account
If you already have a Google Search Console account with one website added, and now you want to add another one, then do the following.
Step 1
Sign in to your Search Console account;
Click the down-arrow on the top-left, next to your current property;
Click Add property.
Step 2
Add the site URL for the new property and click Continue.
Step 3
Verify the site using one of the methods I mentioned above.
Step 4
Add your sitemap as I mentioned above.
How to speed up the crawling and indexing of your WordPress site
Normally, Google takes its time with crawling and indexing new websites.
So, if your WordPress website is new, and you want it to be crawled and indexed faster, then you should "poke" Google and let it know about it.
Here's how to do that.
Step 1
Switch to the old Search Console version at the bottom- left. The new version doesn't have all the features yet.
Step 2
Go to Crawl > Fetch as Google.
Step 3
Click the Fetch button.
Step 4
Click the Request indexing button.
Step 5
Check the Crawl this URL and its direct links radio button, then click on Go.
Step 6
You should see a Complete status and a message: Indexing requested for URL and linked pages.
Now, your WordPress website should be indexed a lot faster.
To check if and how much of your WordPress website is indexed, perform a search on Google with "yourdomain.com" (commas included).
Of course, change yourdomain.com with your actual domain.
Here's an example using my website.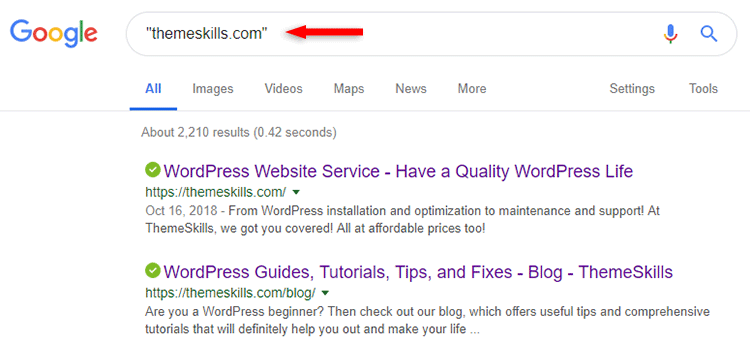 That's a wrap
I hope you found this tutorial comprehensive and managed to successfully add your WordPress website to Google Search Console!
Don't forget to share the post to help out others!
You can quickly subscribe to my newsletter by using this link.
If you have any questions or thoughts, drop a comment or send a message via contact or Facebook page.
You can also hit the follow button on Twitter and subscribe to the YouTube channel.
My WordPress blog or website installation service is at your disposal!
On-going WordPress support and maintenance services are on the menu as well!