For my recent client's project, I recommended StudioPress, so I got to work with the Mai Lifestyle Pro theme for WordPress, and I thought it would be a good idea to write a review about it.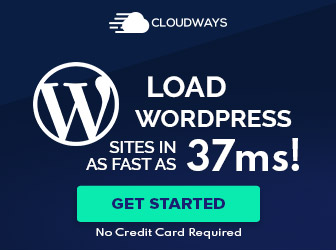 Since the site was going to be about diet, recipes, workouts, and a healthy life in general, the Mai Lifestyle Pro theme was a good fit.
Also, being a theme based on the Genesis Framework and featured on StudioPress, I already knew it was going to be well optimized and focused on performance.
So, let's start this Mai Lifestyle Pro theme review and see what does this WordPress theme has to offer.
Overview;
Flexibility;
Performance;
Design Customization;
SEO;
Building Pages;
Plugins for More Features;
Support and Documentation;
Pricing;
Pros and Cons.
I. An Overview
The Mai Lifestyle Pro theme is currently in StudioPress' top 3 best-selling WordPress themes for 9 months in a row.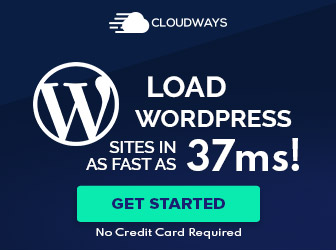 It's the best fit for niches such as wellness, food and recipes, fitness, and lifestyle.
Even though it's featured on StudioPress, it's not made by them, but by a 3rd party author called BizBudding.
The theme is based on the Genesis Framework, as I mentioned above, and only works with it installed!
It's a light and optimized WordPress theme, as all the themes from StudioPress are.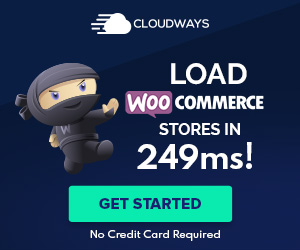 All its options are found in the WordPress Customizer, which is great because you can preview the changes in real-time!
Let's get to the juicy parts now!
II. Flexibility
I was surprised to see Mai's flexibility.
Usually, the WordPress themes from StudioPress are not that flexible. At least not those that I've worked with.
They are more of a "what you see is what you get" kind of themes. But, they do compensate with performance, which, of course, is very important!
1. Different Header and Footer Styles
The Mai Lifestyle Pro theme offers different header and footer styles, as well as two different menus for mobiles.
For the Header style, you have:
Standard Header;
Sticky Header – remains visible as the visitors scroll up and down;
Reveal Header – hides when the visitors scroll down, but shows when they scroll up;
Sticky/Shrink;
Reveal/Shrink.
The last two options also make the header smaller.
For the Mobile menu style, you have two options:
Standard Menu – drops down from the top;
Side Menu – slides from the right side.
For the Footer widgets areas, you can choose from 0 to 6 widgets.
2. Banner Area
The Banner Area is the place where the title and description will appear, as well as the background image or color.

You can configure it globally or individually (e.g. per post or page). You can also completely disable this feature.
The styles and options for the Banner Area are plenty.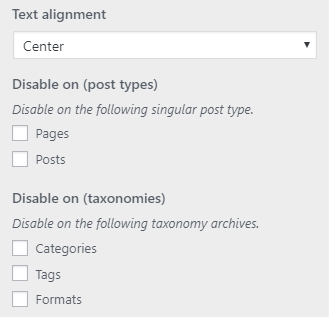 I won't get into every option because it will take A LOT of time to finish this review for the Mai Lifestyle Pro theme.
3. Content Types
The Content Types handle the archive pages and single entries.
"Archive pages" means your blog page, category page, and so on. "Single entries" means your single posts, pages, and so on.
Here are the options for the Archives Default section: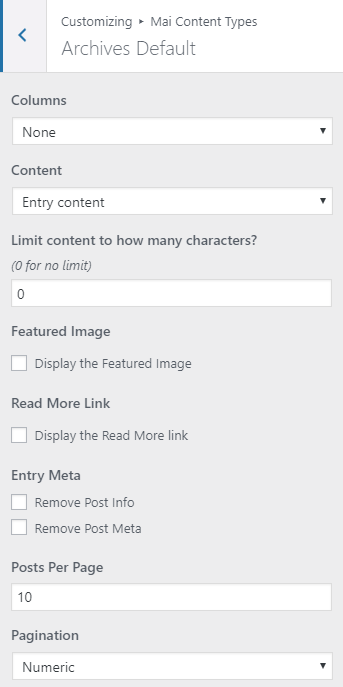 You can choose to show your posts in a standard way, one beneath the other, or in up to 6 columns.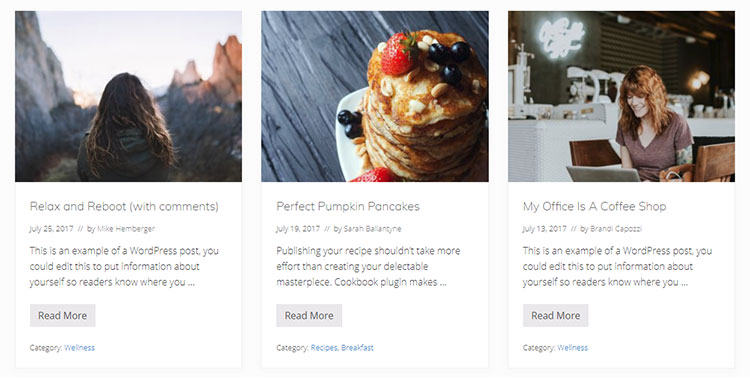 You can display an entry content, an excerpt, or nothing for the posts in the archive pages.
You can also choose if you want to display a featured image or not, a link or a "Read More" button, post info or meta, as well as how many posts you want to show per page, and what type of pagination you want: numeric or Previous/Next.
Let's get to the Single Entries Default now: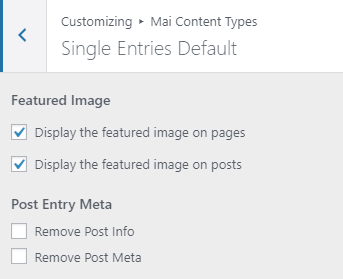 Here, you can choose if you want to display the featured images on both posts and pages, and if you want to remove the post info or meta.
4. Site Layout
As you can see, you have plenty of options here as well.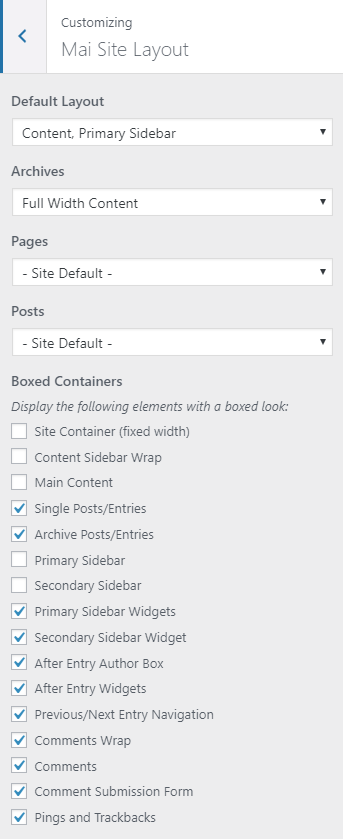 You can set a default layout or set different ones for the archives, pages, and posts.
There are 9 styles you can choose from: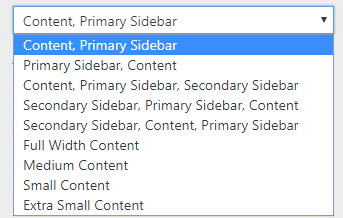 You can override these settings in individual posts, pages, and archives.

The Boxed Containers settings handle the box shadows and borders that are around different sections, which gives them a boxed appearance.
5. Theme Settings
Here, you can:
Enable or disable update notifications;
Add your Google AdSense Publisher ID;
Enable or disable breadcrumbs for different parts of your site;
Enable or disable comments and trackbacks for different parts of your site – I recommend disabling trackbacks;
Add scripts (e.g. Google Analytics) in the Mai theme's header or footer.
6. Widgets

You can add widgets in plenty of places, such as:
Primary and secondary sidebars – yes, you can have two sidebars;
On the right or left side of the header;
Before the header;
After entry – after your single posts, for example;
Site footer – in the copyright area;
Footer – depending on how many columns you selected.
Mobile menu.
III. Performance
The Mai Lifestyle Pro theme was developed with performance in mind, especially because it's built upon the Genesis Framework.
It's light and well optimized, without a ton of features, resulting in fewer requests and bloat.
I'm not a fan of speed tests on theme reviews because it depends on how you set it up, what plugins and tools you use, what hosting you use, and so on.
But, here goes.
Fresh install

This is a clean, fresh install on my WordPress testing website, which runs on a NameCheap shared hosting plan.
No images, no posts, no plugins, no caching, nothing!
All things considered, it performed very well.
The Start Render time, which is the more important one, is 1s, which is good. The Fully Loaded time, 1.2s, is also good.
The number of requests is 20, which is very low, therefore very good.
The size of the files is also small.
Fully set up site
Let's see the speed for my client's blog after I set it up with content, plugins, and all that.
First of all, please excuse the First Byte Time, which is almost 1s. :)
My client already had a hosting plan bought, and unfortunately, she chose Bluehost, so, yeah…
Of course, it's definitely not her fault!
There are tons of WordPress web hosts out there (most of them bad) with good marketing, and it's hard to choose a good one when you are a complete beginner to websites in general, not just to WordPress.
Even I chose a bad hosting when I first started with WordPress.
I was hyped, searched for "best WordPress hosting", and I landed on those full-blown affiliate websites that make all sorts of tops and put all kinds of crap in them.
Anyway, let's get back to the speed part.
As you can see, even if the TTFB (time to first byte) is very slow, the speed is still good, with 1.8s Start Render time (should've been better), 2.4s Fully Loaded time, and only 45 requests, which is great!
I opted to go with Bluehost's own caching system, which performs decently from what I can see so far.
I also optimize every site I build as well as possible. I only install essential plugins, I always optimize the images, I don't add scripts from don't know how many tools, and so on.
I do care to mention that the site doesn't currently have Google AdSense on it, Google Analytics, or APIs from social media sites.
Those will increase the requests and the speed result.
Of course, some of them are needed and useful, such as Google Analytics, and I do add them, but for the time being, they weren't added on this particular site, which isn't live yet.
IV. Design Customization
When it comes to design customization, the Mai Lifestyle Pro theme disappoints a bit.
I'm talking about typography and colors here, which are pretty important.
I was disappointed to find out that there's not one option to change the typography or colors.
I worked with many free WordPress themes that allow you to at least change your primary color.
If you can't change your colors, you can't create your branding, which is very important.
The reason why they didn't implement such options is that they want you to buy the Mai Styles plugin, which is $19.99/year.
But, at the end of the day, they deserve it, since they do offer a quality theme. They have to make money somehow, right?
Also, they do offer you the possibility to change the color scheme yourself using the CSS code mentioned on their support site.
They also show you how to change the fonts using code.
So, eventually, you could make the changes for free.
I do recommend buying the plugin, though, because it's worth it and you'll save a lot of time and headaches.
Mai Theme Engine
The Mai Theme Engine is an extremely useful plugin which activates automatically when you install the theme.
It makes it possible for you to add custom coding to your child theme and not lose it after the theme updates!
This was a brilliant idea from the developers, and every Genesis child theme should have a similar feature!
V. SEO (Search Engine Optimization)
I was also surprised by Mai's numerous SEO options, which can be accessed globally in the Customizer, or individually inside posts, pages, and other places.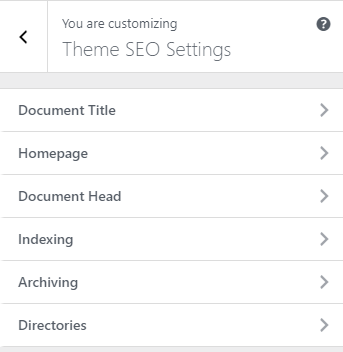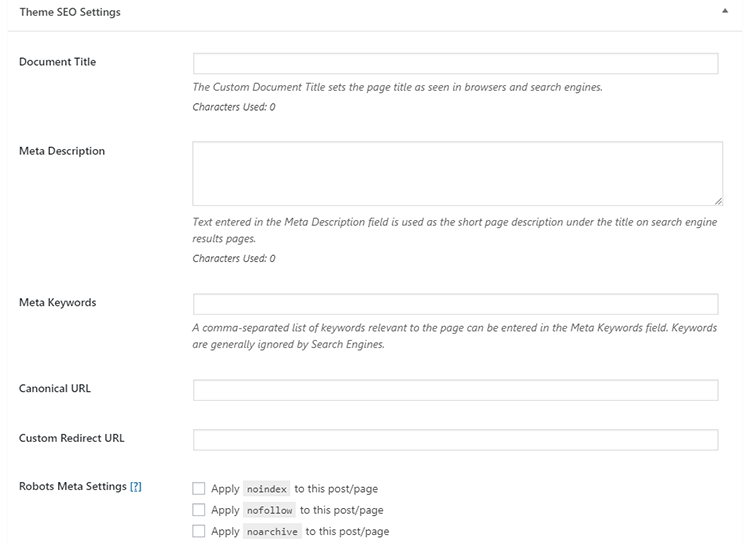 I like the fact that the developers allow you to remove the H1 heading tag from the Site Title if you want to stick with it.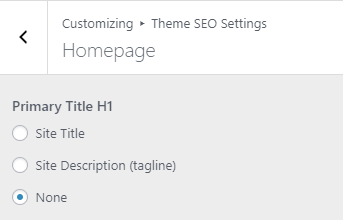 Having that as H1 everywhere wouldn't be the best on-page SEO practice for your WordPress site.
Usually, you have to manually remove the H1 heading from the Site Title on Genesis themes.
So, I recommend setting that to None.
Is it compatible with Yoast SEO?
Yes. As a matter of fact, the theme's SEO settings disappear from the Customizer and from individual posts after you activate Yoast so you won't have duplicate SEO settings and create conflicts.
Even if they did a good job with the SEO features, I still prefer Yoast because it offers even more useful features.
VI. Building Pages On the Mai Lifestyle Pro Theme
1. Sections
The Mai Lifestyle Pro theme comes with a template called Sections.
The Sections template allows you to create full-width pages without being restricted to widgets, which is the approach of most Genesis child themes.
Unfortunately, it's not quite beginner-friendly, so most of you will probably choose to create the pages with either Gutenberg or a page builder.
I didn't want to use Gutenberg and I didn't want to install a dinosaur of a page builder either since I'm already offered a built-in alternative by the theme.
The easy way isn't always the best way. :D
So, I used the Sections template.
To build your pages using Sections, you'll most likely need to use shortcodes with grids and columns, which can be challenging sometimes, depending on what you need.
Even I got stuck a couple of times. :D
Here's how they look like: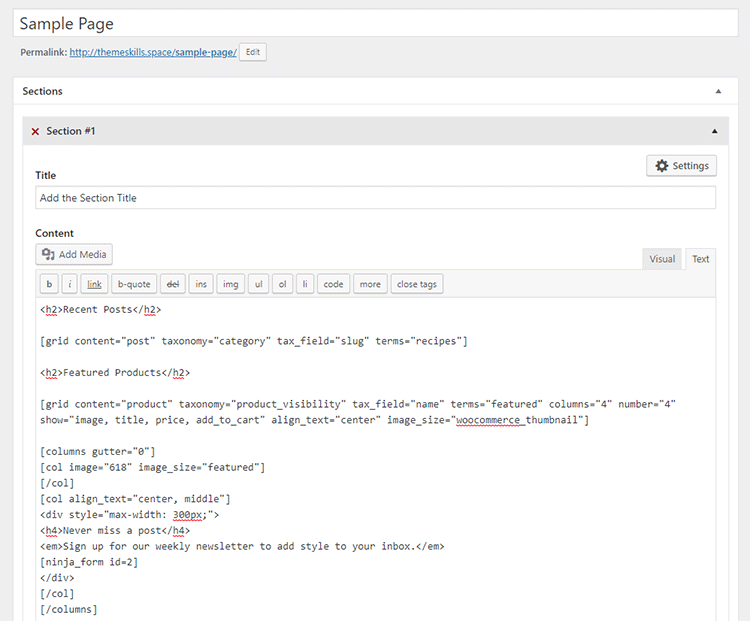 The good news is that you can eventually find everything you need on their shortcodes support articles.
They'll show you how to use grids, columns, and more, as well as what to add inside them if you want to exclude or include stuff.
They even show you how they set up each of their demo homepages.
You also have extra settings for each section if you click the Settings button.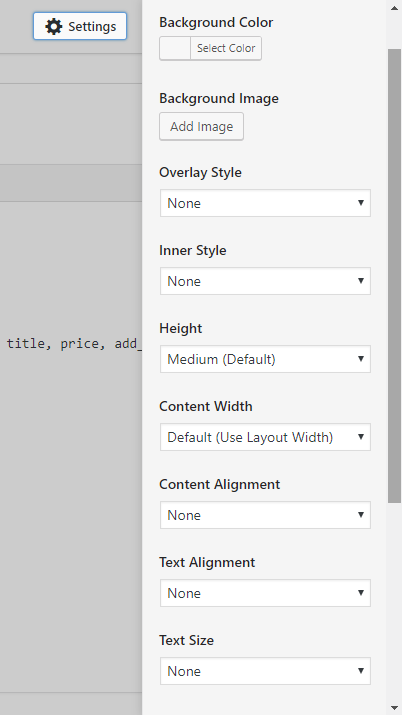 You can add as many sections you want and also rearrange them.
2. Other Templates
Besides Sections, the Mai Lifestyle Pro theme also offers these templates:
Landing Page – create pages with no navigation and widget areas;
Page Builder – if you want to use a page builder, such as Elementor;
Sitemap – this will create a page with your site's structure, displaying your posts, pages, categories, dates, authors, and so on.
VII. Plugins For More Features
Here, you can see what plugins they use for their demos.
Note that the premium Cookbook plugin that you see mentioned in the demo doesn't come with the theme!
Moreover, the plugin is no longer supported, so you should use WP Recipe Maker instead.
The developers also offer some premium plugins for the Mai theme, and you can see them here.
Each of them is $19.95/year, or you can buy the whole pack, which is $79/year.
VIII. Support and Documentation
I don't know how their support is because I haven't contacted them, but their documentation is great!
They explain everything on their articles and YouTube channel.
Every time I needed to find out something, I used the documentation and got the answer.
IX. Pricing
The price is $129.95 – one-time payment!
Besides the Mai Lifestyle Pro WordPress theme, you'll get:
The Genesis Framework;
Unlimited updates;
Unlimited support;
Unlimited usage, meaning that you can use it on how many sites you want.
X. Pros and Cons
Pros:
Light theme;
Focused on performance and optimization;
Flexible;
Plenty of options;
Good SEO settings if you don't want to use a plugin;
Great documentation.
Cons:
Can't change the colors and typography unless you buy their plugin or use the custom codes provided on their documentation;
The Sections template can be challenging to use.
Mai Lifestyle Pro Theme Review: Conclusion
Mai Lifestyle Pro is a modern, flexible, and very well optimized WordPress theme.
If you think it's a good fit for your WordPress website, then you should definitely go for it!
Even if the price seems a little high, don't forget that it's a one-time payment with unlimited usage, so it will end up being very cheap in the long run! And, of course, it's totally worth it!
Tip: WP Engine Customers Get Access to All StudioPress Themes for FREE
Yes, you read that right!
Since WP Engine bought StudioPress, they offer all the current and future StudioPress themes for free!
So, if you are an existing customer or you'll become one by purchasing a WordPress web hosting plan from WP Engine (with this link, you'll get a 10% discount on the first payment and 1 extra free month), you'll get all the StudioPress themes for free!
You can kill two birds with one stone!
Note that this doesn't apply for 3rd party WordPress themes, such as Mai Lifestyle Pro!

That's a Wrap
I hope you found this Mai Lifestyle Pro theme review useful, and you managed to decide whether it's a good choice for you and for your WordPress website!
If you need help setting the theme up, I'm your guy! You just need to contact me!
If you have any questions or thoughts, drop a comment or send a message via contact or Facebook page.