If you allow user registration on your website, you might want to add a Terms & Conditions and Privacy Policy checkbox to the WordPress registration form, especially now with all the GDPR frenzy going on.
Unfortunately, WordPress doesn't have this implemented by default, so you'll have to use a plugin.
There are some codes too, but since this plugin is simple and light, you'd be better off with it.
Let's get to it!
Add a Terms and Privacy Policy checkbox to the WordPress registration form
You can either watch the video or read the tutorial.
To add a Terms & Conditions and Privacy Policy checkbox to the WordPress registration form, you'll need to use a plugin called LH Agree to Terms.
Step 1 – Install the plugin
Download and install LH Agree to Terms.
Here are 3 ways to install a plugin in WordPress.
Step 2 – Set the options
After you've installed and activated the plugin, go to Settings -> Agree to Terms.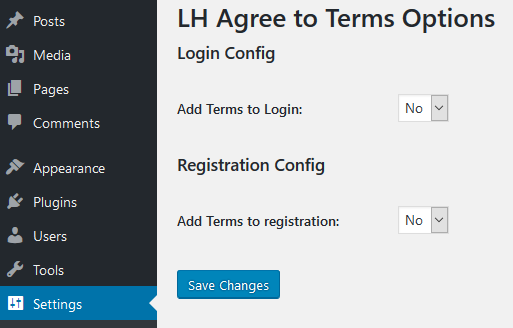 As you can see, you only have 2 options but 3 possibilities:
Add Terms to the WordPress registration form;
Add Terms to the WordPress login form;
Add Terms to both forms.
Even if it only mentions 'Terms', you can add a Privacy Policy too, as you'll see below.
I'll add the checkbox to the WordPress registration form for this example.
What you'll have to do is to select Yes from the Add Terms to registration drop-down menu and then click Save Changes.
After you save, an editor and validation field will appear.
At the Registration Terms part, you'll have to add the text that will appear next to the checkbox on the WordPress registration form.
This text needs to at least contain the link to your Privacy Policy page, which is mandatory for GDPR – at least from what I understand.
I've also added a Terms & Conditions link, so you can have 2 in 1.
I added this text: "I understand and agree with the Terms & Conditions and Privacy Policy.".
The Registration Validity Message is the message that will appear if the user doesn't tick the checkbox.
I added this message: "You have to agree with our terms and privacy policy.".
After you've finished, click Save Changes again.
The Terms and Privacy Policy checkbox should now appear on your WordPress registration form.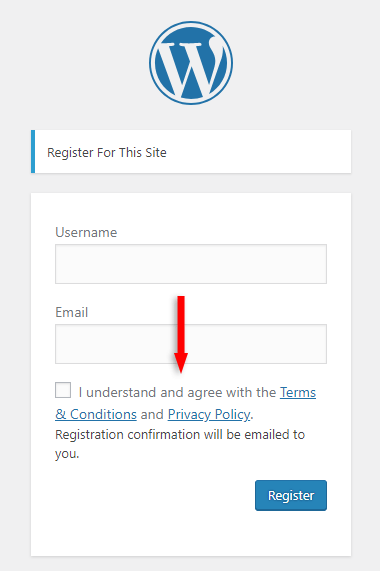 In my previous posts, I've also shown how to add a privacy policy checkbox for Contact Form 7, WooCommerce checkout page, and Avada's contact form, so you might want to check those out as well.
If you use and like the plugin, consider making a donation by clicking the Donate button found here, on the developer's website.
That's a wrap
Hope you found the post useful and managed to add a Terms and Privacy Policy checkbox to your WordPress registration form.
Don't forget to share the post to help out others!
You can quickly subscribe to my newsletter by using this link or the subscription form.
If you have any questions or thoughts, drop a comment or send a message via contact or Facebook page.
You can also hit the follow button on Twitter and subscribe to the YouTube channel.
My WordPress website or blog installation service is at your disposal!
On-going WordPress support and maintenance service is on the menu as well!