This is a guest post written by James Gorski. I didn't receive any compensation for it. You can find out more about James in the 'About the Author' section at the end.
WordPress is good! You'd be hard-pressed to find someone who'd argue otherwise.
With everyone needing some level of web presence nowadays, CMS systems like WordPress are a good go-to solution for creating a professional, responsive website.
Unfortunately, WordPress isn't perfect.
Despite the vast plethora of themes available for WordPress, most users have a very difficult time finding one that really matches their vision.
Often, they find themselves choosing something vaguely close and trying to modify it to meet their needs. This is not actually easy.
The default design interface for WordPress is very limited and clunky, meaning that any serious modifications to a theme do require some web design skills.
This is where plugins like Thrive Architect enter the stage, seeking to give users far more control of their WordPress design.
What is Thrive Architect?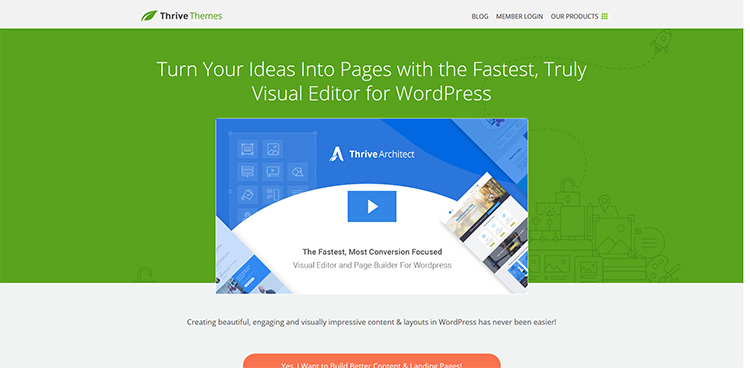 Thrive Architect is a WordPress page builder plugin intended to, more or less, replace most of the editing interface of WordPress.
The developers of this plugin understand the woes of "highly user-friendly" interfaces and the massive limitations they tend to impose. They're also quite aware of how difficult it really is to find a theme that meets a user's needs.
There have been other attempts at simultaneously intuitive and powerful editor interfaces in the past, often resulting in design outputs that don't comply with best practices.
This is usually not an issue for a casual personal page, but the moment professional web designers need to step in and work with these designs, they face with truly alien code that can take them days to unravel.
Thrive Architect strives to avoid this problem by not overriding the way WordPress generates content. Instead, it simply takes control of these processes and makes many of them visible to the user.
Thrive Architect's primary features
1. Compatible with standard themes – Thrive Architect is designed to work with standard WordPress themes, including custom ones already in use. This eliminates the breakage that often occurs when new technology is added to a website.
2. Wider array of templates – This plugin wants to make finding a workable theme much easier. Offering a wider array of quality templates and sections, users can easily create the theme they need by putting these modules together.
3. Superior element selection – Thanks to a far wider selection of elements and widgets, it's never been easier to upgrade and update site content. This allows WordPress websites to evolve beyond their usually passive nature, and become modern, responsive designs.
4. More powerful editing interface – This is the star of the show! An easy to learn, intuitive drag-and-drop interface that literally anyone can build a quality website with, even if they have no experience whatsoever with web design.
A look at Thrive Architect's user interface
Obviously, the editor interface is at the core of how Thrive Architect seeks to empower WordPress users. Anyone used to modern web or mobile interfaces will find themselves almost instantly understanding this one.
Thrive Architect provides a simple, docking dashboard with available elements, tools and tasks, as well as a full-screen active preview of the site that's being designed.
Unlike a lot of page builders (even expensive software), this provides a totally accurate representation of how the site will appear in browsers.
Along with this accurate, real-time preview, editing elements actually makes perfect sense. Most page builders require the element to be selected, then various properties to be modified in a detached panel found elsewhere in the interface.
Thrive Architect takes the more organic approach, allowing the user to select elements, drag them around to move or resize them, and type directly into text elements to change their content.
Working on nested elements inside containers? No problem! Thrive provides a "bread crumb" panel at the top, which allows users to move inward or outward through these nested elements with ease.
Thrive Architect's intelligent response
One of the ways that Thrive Architect stands out over some of its competitors is the "intellisense", which is built into the editor.
We've all encountered this technology before, in the form of auto-fill on phones or interfaces setting themselves up dynamically based on what they think you're doing.
When this doesn't work, it really doesn't work. When it does, however, it saves a ton of time and enhances how intuitive a given interface is.
Thankfully, Thrive Architect is the latter, speeding up element customization and presenting tools, fields and options contextually related to what you're doing.
Alongside the powerful simplicity of the interface, this makes for rapid and stress-free development.
What's on the menu?
This would all be for nothing if Thrive Architect wouldn't offer a large selection of enhanced elements and widgets. It doesn't disappoint here at all.
It has a collection of simple, basic elements, such as lists, buttons, fields and graphics. It goes beyond this, though.
Another thing that makes this page builder stand out is its selection of more complex and powerful elements, such as lead generation forms, call to action buttons and much more.
These are powerful tools to optimize modern mobile and desktop SEO, as well as allow your WordPress website to grow professionally alongside you.
What about themes?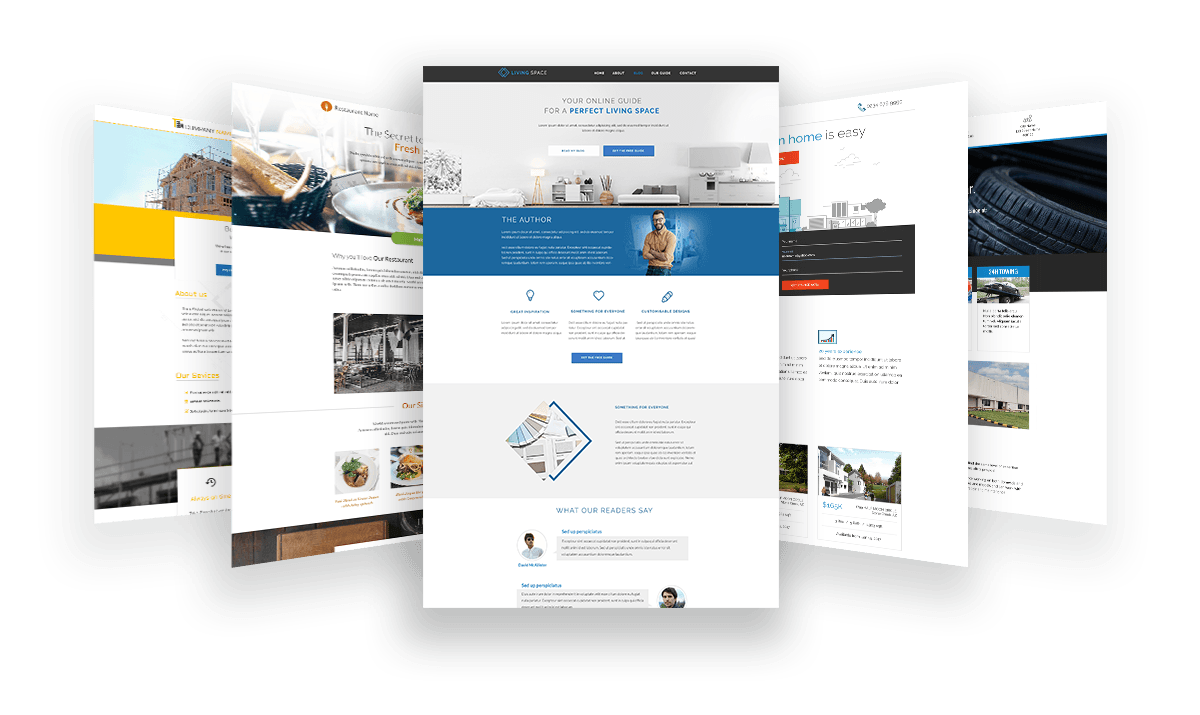 Even with the enhanced design experience that Thrive Architect provides, you might not want to build your theme from scratch. That's understandable, and it's not a problem.
Thrive Architect has a vastly expanded selection of themes that are easier to edit, potentially allowing you to find your "perfect theme", if you're willing to put a tiny bit of elbow grease into it.
The Long and Short
Nothing is perfect, and even really solid solutions may not be the right choice for everyone.
Having taken a good look at its UI and some of the enhanced themes and element features, let's do a run down of its strengths and weaknesses.
Pros:
Very easy, powerful interface;
Lots of customizable elements that you have full control over;
Very accurate real-time preview;
Intuitive drag-and-drop placement;
Organic direct editing of elements.
Cons:
The plugin can be a bit expensive for some, at $67.00 for a single license, with support for one year only. This makes it something that only those dedicated to their website would find cost-effective;
Theme selection is vast, but most tend to be designed around provoking very specific actions from viewers. The overwhelming majority of themes and templates are focused on sales as well;
Output design is still dense and difficult to address outside the editor;
May need a little time for revisions to optimize templates and themes.
Final thoughts
In the end, Thrive Architect is a solid page builder plugin that has a lot of potential.
Those who need a professional WordPress website right away would find this to be a solid, if not, quite perfect solution.
Those who are considering enhancing their sites in the future, just for the heck of it, may want to give Architect Thrive a little time to evolve first.
That's a wrap
Hope you liked the Thrive Architect review!
If you have any questions or thoughts, drop a comment, contact us or message us on Facebook.
You can also follow us on Twitter and subscribe to our YouTube channel.
If you want to start your own WordPress blog, or need a website for your business, our WordPress installation service is at your disposal!
You can also purchase a ready-made WordPress website with hosting and support included!