Showing recent posts on your WordPress website's sidebar can be a very good idea!
Why? Well, while users read a post, they can spot another interesting article in your recent posts list, and then proceed to read it, therefore improving your website's metrics, like page views and bounce rate.
Fortunately, WordPress has a built-in widget called "Recent Posts", which makes it easier for you to add your recent posts in your sidebar.
Let's see how to use it!
Adding recent posts in your WordPress sidebar
1. Log in to your WordPress Dashboard.
2. Go to Appearance -> Widgets, found on the left side of your Dashboard.
3. Find the Recent Posts widget, click on it and hold, then drag it into the sidebar area.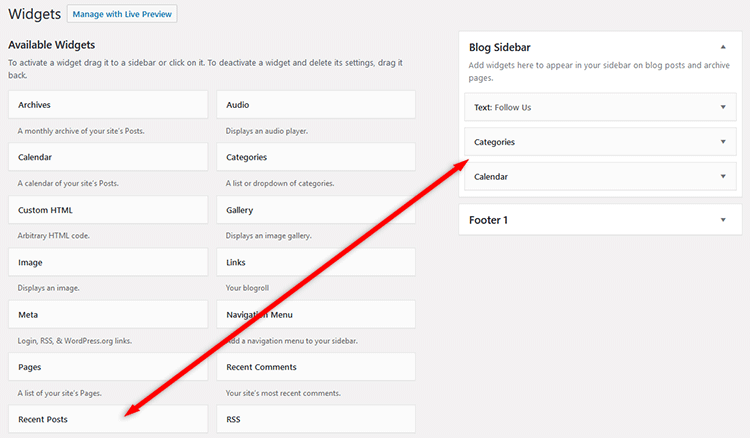 4. Configure the widget by adding a title ("Recent Posts" will be displayed, if left blank), selecting the number of posts to show, and choosing whether to display the post date or not.

5. Once you've finished, press the Save button.
This is how it looks on the default WordPress theme, Twenty Seventeen:
As you can see, the recent posts, along with the dates when they were published, are displayed in the sidebar.
The way it's displayed differs from theme to theme.
Some themes can come with their own customized "Recent Posts" widget, offering you a lot more options, like adding thumbnails to the posts or showing the number of comments for each post.
Adding recent posts in other places
Even though the sidebar is the most common place where webmasters add their recent posts, you can add them in any area of your theme that supports widgets, like your footer.
If you want to add recent posts in your footer, for example, you'll just need to drag the "Recent Posts" widget in the footer area, instead of the sidebar.

That's a wrap
Hope you liked the post and found it comprehensive.
Don't forget to share it to help out others!
If you have any questions or thoughts, drop a comment, contact us or message us on Facebook.
You can also follow us on Twitter and subscribe to our YouTube channel.
If you want to start your own WordPress blog, or need a website for your business, our WordPress installation service is at your disposal!
You can also purchase a ready-made WordPress website with hosting and support included!