By default, in WordPress, when you create a menu for your website, all the menu items (e.g. Contact, Blog, etc.) will open in the same tab when clicked on.
But what if you want a menu item (or button, whatever you wish to call it) to open in new tab when clicked? That's what I'll show you in this post!
Open menu item in a new tab
1. Log in to your Dashboard and go to Appearance -> Menus.
2. Once there, press on the Screen Options button in the upper-right corner.

3. Check the Link Target box.

4. Now if you go and click one of the drop-down menu buttons, you'll see that under "Navigation Label", an Open link in a new tab checkbox appeared. Check that on the menu item that you want to open in a new tab when clicked on.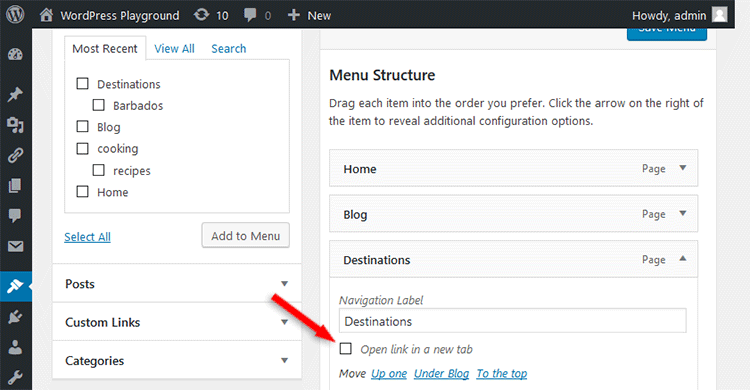 5. Don't forget to save the menu! And also clear the caches (first the browser, then the website, if the browser didn't do the trick), if the change doesn't seem to take effect.
That's it! Now your menu item will open in a new browser tab when someone clicks on it.
That's a wrap
Hope you found the post useful and comprehensive!
Don't forget to share it with your friends.
If you have questions or thoughts, drop a comment, contact us or message us on Facebook.
You can also follow us on Twitter and subscribe to our YouTube channel.
If you want to start your own WordPress blog, or need a website for your business, our WordPress installation service is at your disposal!