GeneratePress (review) is a free WordPress theme. The premium version of it consists of a plugin called GP Premium.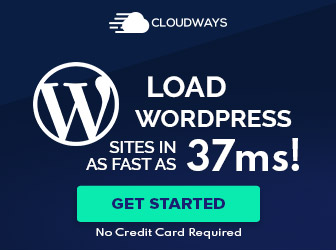 StudioPress is the creator of the well-known and highly regarded Genesis Framework, and all of their child themes are based on it.
I'm creating this comparison post because both GeneratePress and StudioPress themes are in the lightweight and performance-focused category.
The difference consists of pricing and customization level, which I'll cover below.
GeneratePress vs StudioPress: Overview
Before breaking things down, let's see a brief comparison between the two.
By Customization, I mean the customization options that come with the theme, not the customization that can be done via custom code.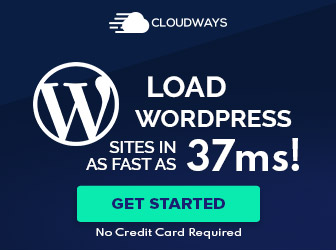 | | GeneratePress | StudioPress |
| --- | --- | --- |
| Performance | Very high | Very high |
| Customization | High | Low |
| Price | Low | High/Low/Free |
GeneratePress vs StudioPress: Performance, Customization, and Pricing
Let's break down these three important parts.
Note that I'll be focusing on the premium version of GeneratePress and on StudioPress child themes, not on the Genesis Framework alone.
1. Performance
Like I previously mentioned, both GeneratePress and StudioPress offer themes that are lightweight, optimized, and focused on performance.
I don't think you can go wrong with either of them when it comes to this.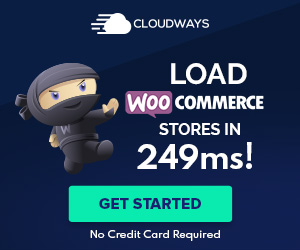 They are also secure and SEO-friendly.
While GeneratePress offers a lot more customization options, you can disable the ones that you don't use, thanks to its modular design.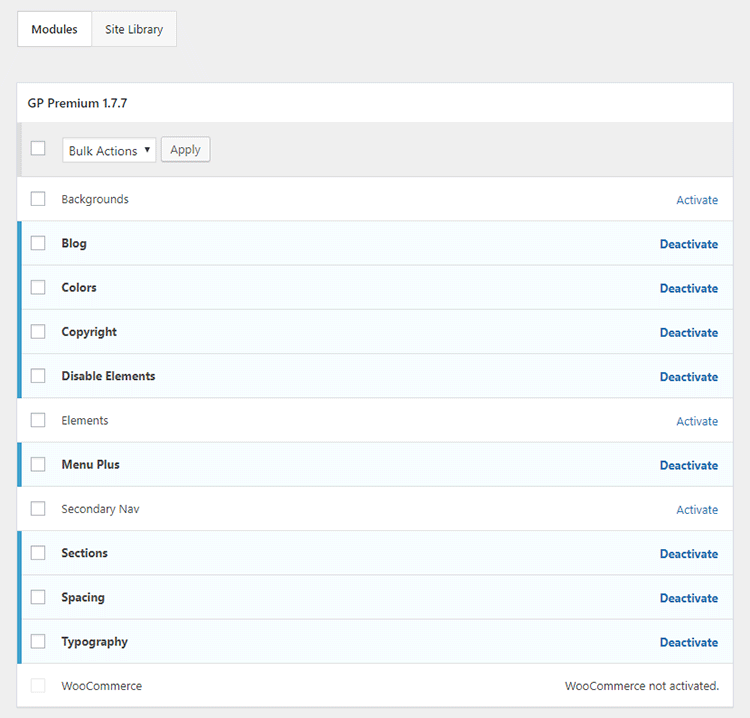 For example, as you can see in the above image, on my newly launched blog, I'm not using Backgrounds, Elements, Secondary Nav, and WooCommerce.
So, I disabled them.
By disabling them, it means that they won't load, and the fewer scripts a theme loads, the fewer requests it will have, the faster it will become.
Modular design is awesome, and all WordPress theme developers should implement it, especially for multi-purpose themes that are packed with all sorts of features.
2. Customization
StudioPress
Most StudioPress themes are more WYSIWYG (What You See Is What You Get). They don't come with a lot of customization options.
There are some exceptions, though, such as the Mai Lifestyle Pro theme, which is pretty flexible.
Here are the current settings for the Genesis Framework:
StudioPress themes normally work with widgets.

With these widgets, you can add or remove elements from your WordPress website, and you can also customize them a bit, depending on the child theme that you choose from StudioPress.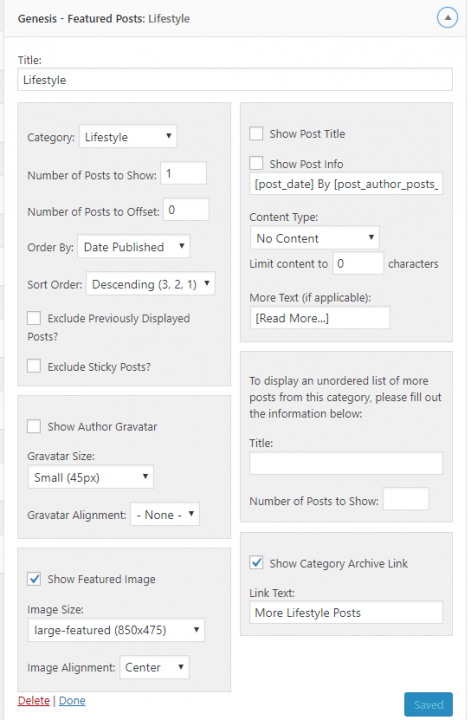 Free plugins for more features and customization
You can further customize a StudioPress theme by installing free plugins, such as Genesis Responsive Slider, Genesis Simple Edits, Simple Social Icons, and more.
The above-mentioned plugins and several others are developed by StudioPress.
Design Pallete Pro
The customization options I mentioned above are not really for design, as in font, font size, colors, and so on.
This is where the Genesis Design Pallete Pro plugin comes in.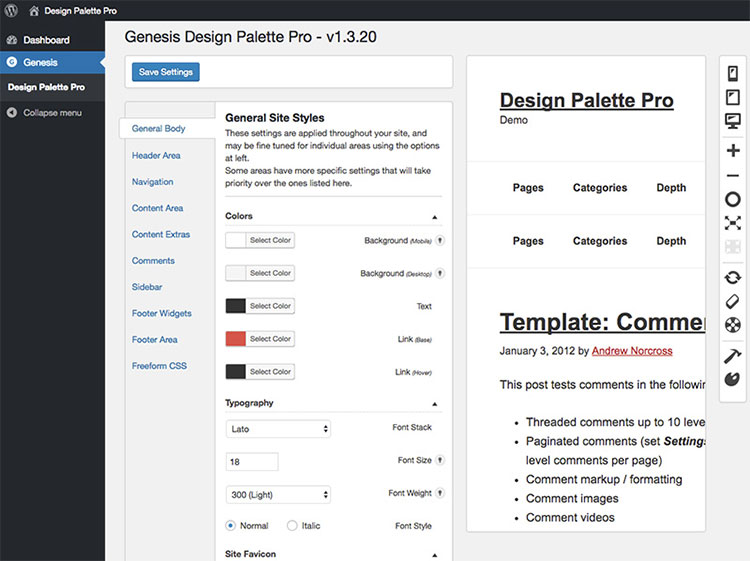 This plugin allows you to change the look for different areas of your website without having to add custom code.
Basically, it adds design options.
Without this, you'll most likely find yourself in need of adding CSS code to change parts of the design.
The bad news is that the Genesis Design Pallete Pro plugin is not free. It starts at $49/year.
GeneratePress
The GeneratePress theme (premium version) has both design and layout customization options, which you can find in the Customize section of WordPress.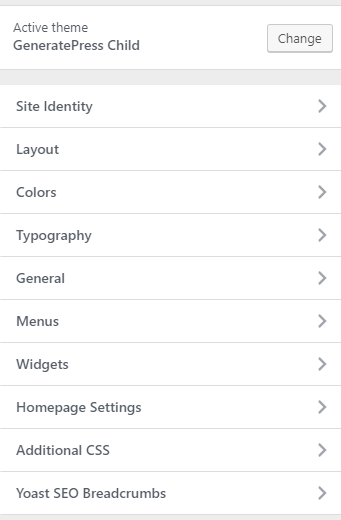 Each of those settings breaks into even more settings.
Here's a video put together by GeneratePress, so you can have an idea of its flexibility.
You can change a lot of stuff.
Customization for individual pages
While you have global options that affect the whole website, you can also set different options for individual pages or posts.
For example, if you don't want a specific post to have a sidebar, or if you want fewer footer widgets on a page.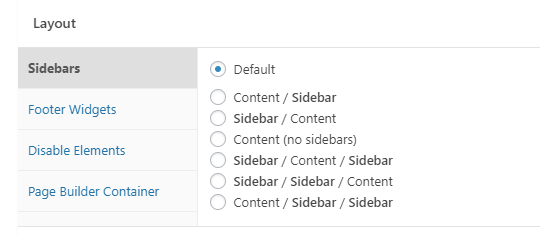 Hooks system
GeneratePress also has a great Hooks system (changed to "Elements" module in v1.7).
This allows you to add custom code to different parts of your WordPress website without changing the core files and without needing to have a child theme in place (I still recommend it, though).
Free plugins for more features
You can also add several free plugins created for the GeneratePress theme to add more features, such as social icons.
Light page builder
GeneratePress has a built-in light page builder, and I really love it because I didn't need to install a whole page builder plugin to create some basic pages for my blog or my one-page personal website.
The page builder uses the Sections module and it looks like this:

Each section has some customization options, such as:
Layout;
Colors;
Background (including Parallax effect).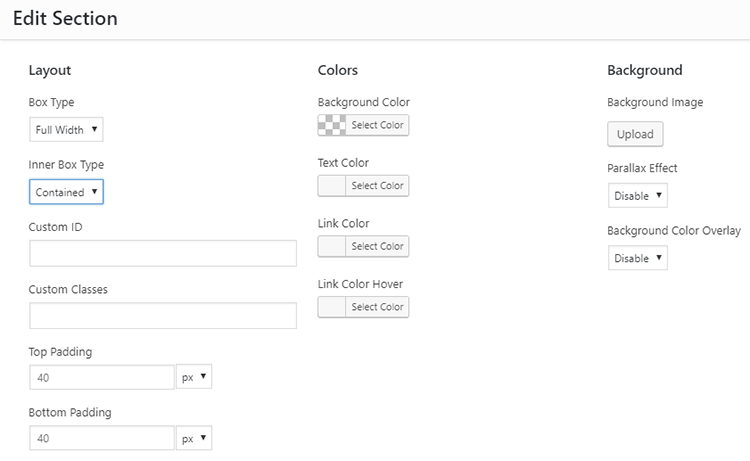 3. Pricing
GeneratePress
GeneratePress Premium currently costs $49.95/year, and you can use it on unlimited websites!
You'll also get a 40% discount on renewals. So, the next year, you'll only pay around $29.97.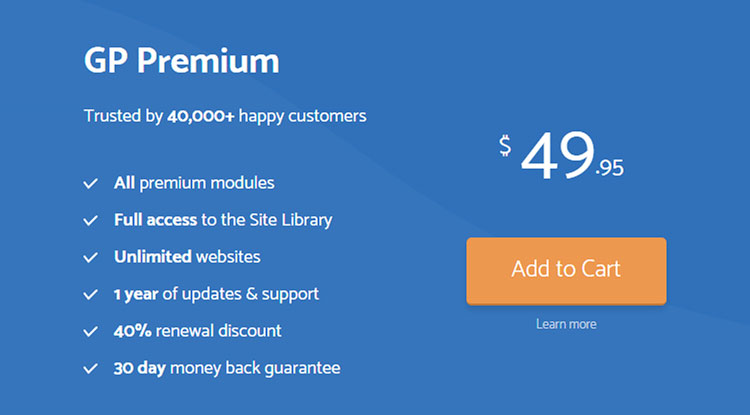 StudioPress
This is a bit more tricky.
Depending on what you need or use, it can be expensive, not expensive or even free!
Only buying a theme
A StudioPress WordPress theme, including the Genesis Framework and a child theme, will usually cost between $99.95 and $129.95.
This will be a one-time payment. You'll get unlimited support, updates, and licenses.
So, in the long run, it will become cheaper than GeneratePress.
Buying the Design Pallete Pro as well
If you'll also need the Design Pallete Pro to make design changes, then you'll have to pay at least $49/year extra.
Now, it will become more expensive than GeneratePress in the long run.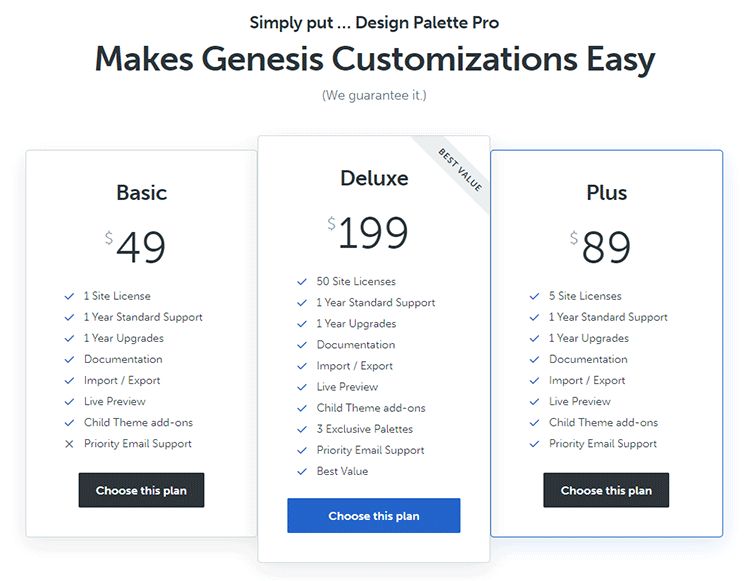 Get the Pro Plus Package and save over $1700
StudioPress' Pro Plus All-Theme Package is $499.95 – one-time payment.
You'll get access to all current and future WordPress themes, as well as unlimited support, updates, and licenses.
Getting all themes for free
Since WP Engine (this link gets you 10% off and 1 extra free month) bought StudioPress, they offer all StudioPress themes for free!
Yes, that's right, all of them!
So, if you're looking for a good WordPress hosting, not only a theme, then you can kill two birds with one stone!
GeneratePress vs StudioPress: Pros & Cons
GeneratePress
Pros:
Lightweight;
Optimized;
Performance-focused;
High customizability;
Good support;
Cheap.
Cons: Can't think of any.
StudioPress
Pros:
Lightweight;
Optimized;
Performance-focused;
Good support;
Can be cheaper in the long run (without the design plugin) or even free if you're a WP Engine customer.
Cons:
Low customizability if you don't buy the Design Pallete Pro plugin;
Can be expensive, depending on what you need.
Conclusion
You can't go wrong with either GeneratePress or StudioPress' Genesis themes when it comes to optimization and performance.
In the end, it basically comes down to the price and customizability, which StudioPress themes have too, but at an extra cost.
GeneratePress still has some extra layout options, though.
For my new blog and website, I ended up choosing GeneratePress because it offers more at a lower price.
If the Design Pallette Pro plugin would have been integrated into the Genesis Framework for free, I might have bought a theme from StudioPress.
That's a wrap
Hope this GeneratePress vs StudioPress' Genesis WordPress themes has helped you to make a good decision that suits your needs best!
Don't forget to share the post to help out others!
You can quickly subscribe to my newsletter by using this link.
If you have any questions or thoughts, drop a comment or send a message via contact or Facebook page.
You can also hit the follow button on Twitter and subscribe to the YouTube channel.
My WordPress website installation service is at your disposal!
On-going WordPress support and maintenance services are on the menu as well!