In a previous tutorial, I showed you how to disable emoticons in WordPress. In this one, I'll show you how to disable emojis in WordPress.
Note that emojis are not the same as emoticons. They are created and handled differently by browsers and operating systems.
Emojis were added in WordPress 4.2, and while they're fun and all, an additional HTTP request is created on every page to load the JavaScript file that handles them.
And, if you don't know, the more HTTP requests you have, the slower your WordPress website will load.
So, if you're one of those webmasters that are obsessed with their site's speed, and are willing to perform any speed tweak out there, then disabling emojis should be on your list.
Or you could disable them because you simply don't want emojis to appear on your WordPress website.
Now, let's get to the point, and see how to disable emojis in WordPress.
How to disable emojis in WordPress
I would have liked to provide a coding alternative as well, because the fewer plugins you have, the better, but there are quite a few codes out there, and they all differ.
So, since I'm not a web developer, I don't know which one is better, or which one still works properly, since the WordPres code can change with every update, and some of those codes might not work today.
Therefore, I'm going to recommend a simple and light plugin called Disable Emojis.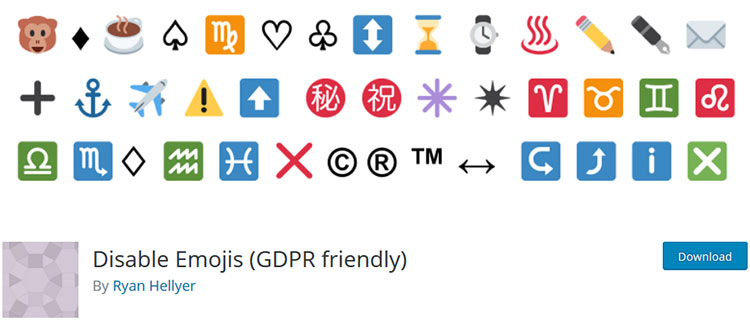 I doesn't have any settings. You just have to install the plugin, activate it, and your emojis are disabled in WordPress.
Note that emojis will still work in browsers that have built-in support for them. The plugin just removes the code from your WordPress website.
That's a wrap
Hope you found the tutorial comprehensive and useful! Don't forget to share it with your friends!
If you have any questions or thoughts, drop a comment or send a message via contact or Facebook page.
You can also hit the follow button on Twitter and subscribe to the YouTube channel.
If you want to start your own WordPress blog, or need a website for your business, ThemeSkills' WordPress installation service is at your disposal! On-going WordPress support and maintenance is on the menu as well!
You can also purchase a ready-made WordPress website with hosting and support included!