This is a guest post written by Catherrine Garcia. I didn't receive any compensation for it. You can find out more about Catherrine in the 'About the Author' section at the end.
Have you signed up for an ESP (Email Service Provider)? Well, good!
You have even begun to build an email list for your WordPress site? Now, that's too good.
Have you created a sequence of auto-responders and planned to send random broadcasts to your email list? If yes, then congrats, you are following almost everything that is a popular procedure in email marketing.
But even after all these, you are actually just scoring on the surface. Yes, there's a lot more when it comes to making the email marketing efforts fully successful.
Here is the checklist of the 10 most effective things that you need to plan for your WordPress site's email marketing campaign.
1. Feature opt-in forms on posts that are popular
Do you know that old posts can drive in a lot of traffic to your site? You can start benefiting from them by inserting opt-in forms. Just check which of the older posts are getting maximum views, add opt-in forms on them, and VOILÀ!
2. Go for the two steps opt-in process
An opt-in process that consists of two steps can really help with increasing the conversion rate of the visitors. Believe it or not, but it's a fact.
Instead of showing a subscription form on your page, display a button, and when that button is clicked, make sure that a pop-up box appears, and there you can go on asking for your visitors' information.
Even though sometimes it is assumed not to be so effective, this email marketing strategy can actually work wonders for your site.
3. A 'Please confirm' email and a 'Thank you' page
Do you ever wonder what should come next after your visitors fill out the subscription form and click on the submit button? Well, the first step should consist in sending a confirmation email to them.
But what about the page on which the visitors completed the subscription form?
Generally, these pages turn out to be dead pages, without any action being performed after the submit button is clicked. Beware! A dead page is bad for any website.
Therefore, try redirecting them to a "Thank you" page, where you include links to other popular posts, blogs or offers, in order to keep them further engaged on your site.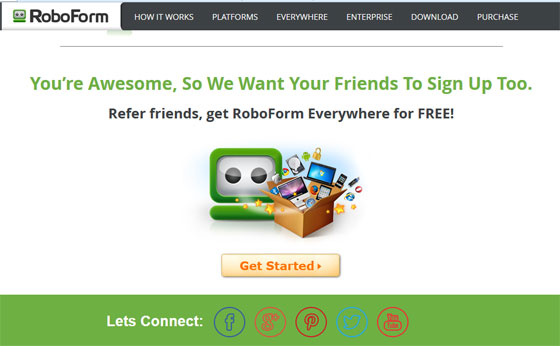 4. A 'Success' page
After the visitors click on the confirmation link sent to their emails, make sure you lead them to a page with a successful subscription notice.
This will let the subscribers know that they have succeeded in subscribing to your site, and it also gives you another opportunity to recommend/promote different things from your site (posts, products, etc.), in order to create more engagement and conversions.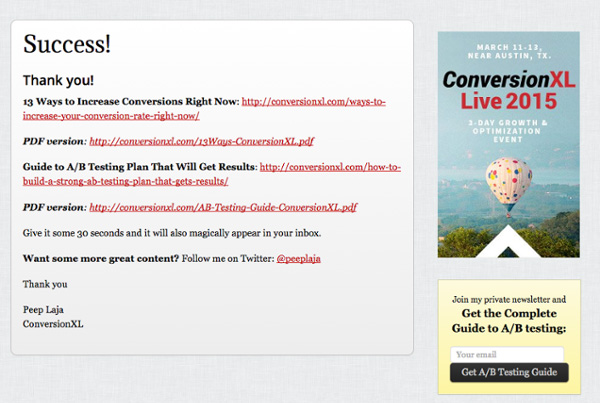 5. Already a subscriber
It often happens that the existing subscribers forget whether they are subscribed to your site or not, so they try to subscribe again.
For those situations, make sure that your email service provider generates an automated message, like "You are already subscribed".
It's up to you if you want to turn this feature into a marketing strategy by customizing that message.
6. A super impressive first email
Always remember that the first impression is usually the most important! Therefore, make sure that the first email you send to any new subscriber is very impressive.
If you can manage to do this wisely, be assured that you'll get the maximum attention of the audience. After all, your first mail can determine them to come back again on your site!
7. Mobile-friendly emails
With the majority of people now opting for accessing emails on their mobile devices, writing the email content in a mobile-friendly way has become a must!
If applied carefully, this email marketing strategy can really help you reach a much larger audience.
Before sending emails to others, see how it looks on your mobile device. Keep the links isolated and the content as scannable as possible.
8. Remind people of the reasons for the subscription
Reminding your subscribers at the end of the email, when and why they subscribed in the first place, can be an effective way of email marketing.
These reminders simply help to maintain a level of authenticity and transparency for your business.
9. Include Global Text Snippet
Global Text Snippets allow you to update multiple messages at once, without having to edit one at a time.
While planning your email marketing strategy, you shouldn't forget to include this.
10. Subscribers and their opinion
Encouraging the subscribers to express their opinion can be another great strategy.
Try sending emails and asking them what do they think of your services, what might be bothering them, how can your site be improved, etc.
Conclusion
If you have an email list, it is important to assess how many factors from the above checklist you're using for your marketing campaign.
Don't be worried if you find that a few factors were overlooked, because it's never too late to start making improvements, right?
Hope you enjoyed the post and found it useful!